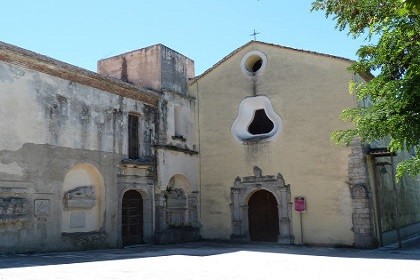 The church of San Marco, with its convent, dating from the thirteenth century. The complex overlooks a beautiful view of the valleys, and owes part of its fame to stay secular, within its walls, the future Pope Sixtus V and Clement XIV. The convent located on the side of the church was held by the Franciscan friars of the shoe.
The beautiful late-Baroque portal, surmounted by the papal coat of arms of Pope Clement XIV, introduces the church a Latin cross, with a single aisle.
Inside it is preserved a precious altar in polychrome marble of the XIII century and an ancient statue of St. Anthony of Padua. Side, it spreads the building of the convent that had a number of cells on two floors.
They appreciate, the outer walls of the convent, sarcophagi of notable citizens and several plaques that tell the story of the complex, severely damaged by an earthquake in the sixteenth century and rose to new life because of Sixtus V.
With the suppression, which occurred in 1807, the convent became a barracks for the French troops, school, town hall, barracks for infantry troops. Between 1920 and 1960 the building was neglected, and then be earmarked it as a remand prison.


Add to favorites