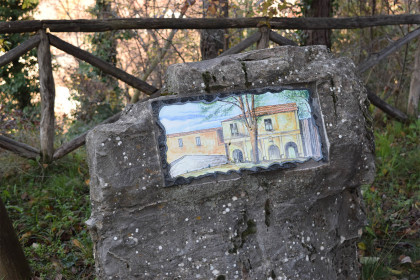 The convent of Santa Maria delle Grazie was built in the early twenties of the seventeenth century in the vicinity of the pre-existing church of Santa Maria 'Patron of the University', dating from the fourteenth century.
Since then, the complex was entrusted to the care of the Franciscan Friars Minor of the Observance of the Order, who administered the cult of the Virgin and established a school, providing to expand the church already damaged by the earthquake that shook the end of '600 Irpinia.
Around the life of the monastery he developed the eponymous village, thus extending the settlement of the country. During the eighteenth century it was built a square opposite the church (later courtyard asylum) and were completed other works of consolidation; In this same period, the church was embellished by a choir in walnut, with fine paintings and an organ.
The next century saw the brothers take over the Daughters of Charity, who kept alive the complex until the earthquake of 1980, because of which the site was destroyed. Today we try to recover if not the entirety of the structures hopelessly compromised, at least the sacredness and dignity of the place, which still survives in the memory and in the affections of the community of Sant'Angelo.


Add to favorites