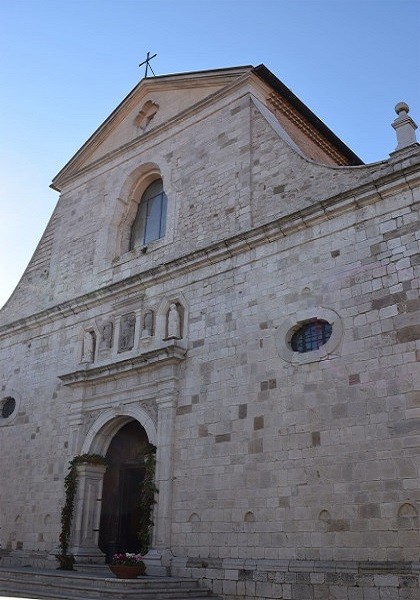 The Diocese of Sant'Angelo dei Lombardi was established in the period between 1076 and 1085, under Pope Gregory VII. The church of St. Anthony Martyr suffered during its existence, many renovations and changes because of the many earthquakes that hit the country.
The facade of the sixteenth century, for as we can admire it today, is in travertine and local stone, while the portal is the first half of the eighteenth century. Above the door, in the center, a statue of the Risen Christ (XVI sec.); right and left of Christ, respectively, the statues of St. Anthony and St. Michael (both XII – XIII sec.). The church has a Latin cross with three naves, separated by pillars with barrel vaults.
There are many works that still today are preserved in the apse there is a wooden crucifix dating from the Renaissance Goleto; statues of saints dating from the '700 (including those of St. Anthony and St. Anthony of Padua) in the aisles; a memorial is built into the wall, crossing the entrance at the right aisle, built in the sixteenth century in memory of Nicola Cecere. At the foot of the sarcophagus enjoying a tombstone bearing the name of Michele Cecere, bishop of the fifteenth century.
In the crypt, supported by lancet arches, they are preserved a wooden statue of Our Lady of Grace and the altar of Goleto. The earthquake of 1980 caused serious damage to the building structure, so as to mutilate the bell tower, originally a four-storey, missing today the last, which was performing a clock placed in a brick building. After the renovation and consolidation, the cathedral is now fully recovered and returned (in 1999) to its Sant'Angelo.


Add to favorites