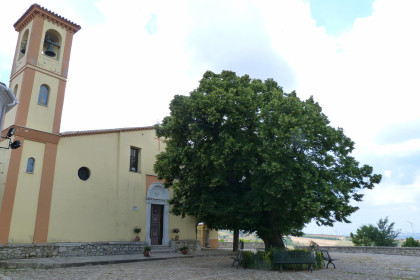 The church dedicated to the patron saint of the country, is located in Piazza Convent, should go back to the seventeenth century, although its current appearance is the result of successive restorations. It was flanked by a convent of Friars Minor, suppressed in 1799. Inside, the nave small, in three niches, is a triptych where there are statues of St. Bonaventure, St. Anthony of Padua (attributed to Giacomo Colombo) and Saint Leonard of Limoges. At the foot of the altar, houses a relic of St. Anthony (a portion of the vocal cords), delivered, with a solemn ceremony June 10, 2001, the Brotherhood of Bisaccia by the friars of the Basilica of St. Anthony of Padua. In the aisle, illuminated by the rays of light coming from a rosette, they are the three altars of the Madonna delle Grazie, San Francisco and San Gerardo. The aisle ends with a chapel where a seventeenth-century wooden altarpiece above a marble altar of the nineteenth century.
Near the headquarters of the Confraternity of St. Anthony of Padua. Rules were established on October 4, 1877 and bear the signature of the Prior or Prefect Don Nicola Ricciardi and the Spiritual Father Can. Antonio Michael Arminio. The rule book is divided into four chapters. The first "Introduction", said the establishment of the association and the main purpose: the pursuit of the virtues of the Holy and Christian charity. In the second chapter are dictated the rules of common life "Of what is to be done inside and outside the Congregation" and provisions about "The dress liturgical holidays etc.". The third knew about the rules of the Officers of the Brotherhood and the administration (the prior, assistants, nurses, the novice director, secretary, etc.). In the fourth chapter lists the rules for participating in the "Pious Mountain of the Dead": a series of requirements for the votes and the deceased.
These rules were revised and corrected when the Confraternity has resumed, after a few years, its main activities with respect to the decrees of the Second Vatican Council.


Add to favorites