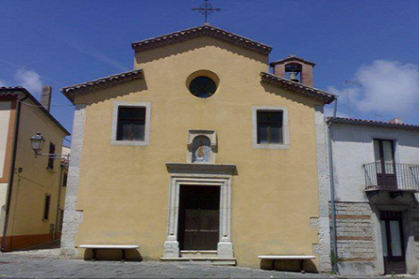 The chapel was built in 1667 by the noble Bucci Carmine for his deep devotion to St. Mary of Carmel , only in 1827 was opened to the public . Rectangular , has only one entrance that faces the piazza . Interesting is the entrance stone , made ​​by skilled local stonecutters , topped by a majolica depicting the Madonna del Carmine . Above the portal , we read with great difficulty inscription , worn by time :
" FEDERICVS BVCCIVS EFFECIT , EANDEM DE MOUNT CARMEL virginem SVCCESSORIBVS SVIS FORE IVRIS PATRONATVS , QAM SIBI IN PARTONAM ELEGIT HVS
Honori , SEMPER STVDVIT , SVORVM BORN NATORVM ECCLESIAM HABERENT
QVAM DIRECTE EREXIT . PP . CLEM IX : Episcopo ILLUSTRIOUS DOMINO THOMA DE ROSA AD1667 " .


Add to favorites