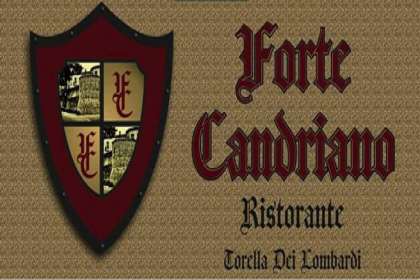 The restaurant Forte Candriano, Alessandro Molinari, was born July 19, 2012. The name "Forte Candriano" refers to the fact that the room is located inside the castle Candriano, a fortress of lombard also the adjective "strong" well He describes the personality of the owner. Just its location gives it greater prestige and beauty. Inside the elegant structure it has two receptions rooms, furnished with refinement and attention to detail. Each room is the ideal place for special events and banquets.
The cuisine is enhanced by products that are always fresh, quality products and above all territorial mainly: mushrooms, truffles, seasonal vegetables. As appetizers, the chef offers a wide selection of meats and cheeses national (niche products) and various pies. As regards the first dishes on the menu point cavatelli with cream cheese, porcini powder and nuts and a variety of stuffed pasta. Among the main courses we indicate two dishes: codfish millefeuille 'with fragrant bread and pepper cream and braised beef with Taurasi. Also we note that the restaurant is also a pizzeria and provides the opportunity for celiacs to savor the delicious pizza.
The place from November to March is open only from Friday to Sunday, while from April to October is always open.
Contacts
Via Ruspoli 6, 83057 – Torella Dei Lombardi (AV)
Cell.: +39 342 6219126
E-mail: fortecandriano@gmail.com


Add to favorites