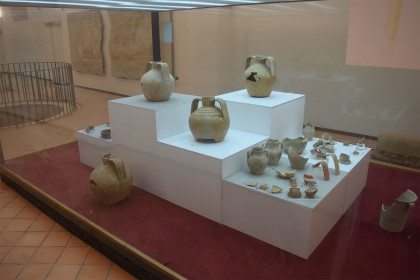 The Museum of the Opera is on the first level of the building incorrectly said 'castle' and collects the finds brought to light in the castle area. An integral part of the historic building, the museum gives value to the complexity of the site and also receives, telling the long history of the events that have occurred on the hill dominated by the noble residence.
The artifacts recovered emerged in the excavations that from 1987 to 1994 conducted a thorough archaeological survey in the area. Were recovered in different environments and objects trenches eras, different materials and manufacturing techniques: the finds, after a long search, classification and dating, they have been cataloged by the criterion of the type.
The numerous ceramic finds belong to different periods and different techniques, ranging from ceramics to the achromatic glazed post-medieval: it comes to pitchers, jars, jugs, bowls, plates, cups, oil lamps, chamber pots, basins. They were found glasses, cups and bottles. They were later found buttons and buckles of metal, nails, hooks, horseshoes and utensils; and even objects made of bone, clay, stone and ivory vague.
Also found in it different coins, ranging from money tornese copper silver dating from the thirteenth century to 8 tornesi bronze era of Ferdinand IV of Sicily, up to 5 cents in bronze in 1867 with the effigy of King Vittorio Emanuele II d ' Italy.


Add to favorites