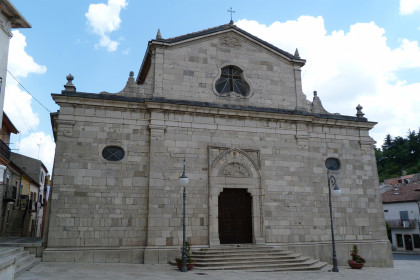 The ancient Byzantine cathedral stood in the area between Old Largo Campanile and via Old Bishopric. Destroyed by the earthquakes of 1694 and 1732; only one episcopal coat of arms, a tombstone and an inscription from 1619 that recalls the construction of a chapel dedicated to Our Lady of Mount Carmel, by the notary Annibale Formoso were saved from disaster.
In its place it was built a second building on the edge of the castle, on land donated by the Duke Procopio Maria d'Egmont, also using part of the materials from the previous building, as the bas-reliefs that decorate the Romanesque-Gothic portal. It was completed in 1747 by master Pietro de Pagano fact in the frieze of the cornice we read:
"M. Petrus D. PAY qvum HOC TEMPLUM FECIT 1747 ".
Divided into three naves and relics of the seventeenth century, as a carved wooden choir made by masters of local or Bagnoli Irpino and the altar in polychrome marble. The chapel, which closes the left aisle the altar of SS.mo Sacramento. In the right aisle there is the Baptistery in stone of 1577, on which is carved the coat of arms of Bishop Pietrantonio Vicedomini (1574 to 1580).
On the side wall of the Cathedral, almost side by side there are two plaques; the left one, dating back to 1887, celebrates the dead Italians in Africa on 25 and 26 January of that year. The other plaque on the right is much older, reports two dates, 1518 and 1657, and the following text:
"RAINALDVS ET VALERIVS NEPOS
AQVITES TROIANI SIMVL bishops'
PI BISACIENSES SIBI ET ecclesie OF
VERSORIVM POSVERE AN D MDXLIX
F.I. CIANTES E. AD IVRA
ECCLESIAE servanda TRANS
TVLIT A. D. MDCLVII ".
Next to the cathedral bell tower it was erected in 1820, but due to a series of disputes was torn down and rebuilt only in 1925 thanks to the contributions of the public and bisaccesi emigrated to America. On the walls of the bell tower of the gravestones are on display, support for victims bisaccesi the Battle of Caporetto.


Add to favorites